Welcome to the North County Corvette Club Website (NCoCC) is a not for profit organization founded in 1974 by San Diego Corvette enthusiasts who wanted to enjoy America's finest sports car. Our sponsor is Bob Stall Chevrolet in La Mesa, and NCoCC is a member of the National Corvette Museum and the San Diego Car Club Council

Click Here for the best possible price from
Bob Stall Chevrolet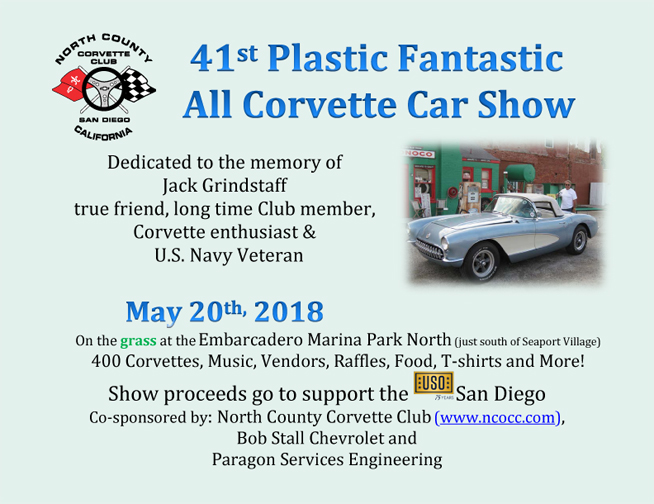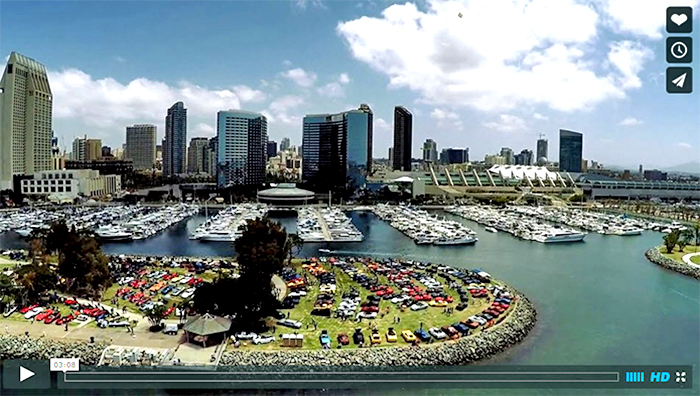 Show Co-Sponsor:

North County Corvette Club wishes to thank all of our sponsors, vendors and donors for their contributions to the success of Plastic Fantastic XXXX.
Income from today's show, including raffle and auction net proceeds, will be donated to the USO San Diego.

Below is a list of companies that have donated so much to today's event. We would ask that you support these patrons whenever possible.

Platinum Sponsors:
Bob Stall Chevrolet, La Mesa California
Paragon Services Engineering, San Diego California
On Site Show Vendors:
West Star Digital Photography, Hacienda Heights CA
Top End Tees, Escondido CA
Remember Then (Metal Signs), San Diego CA
Supreme Catering, San Diego CA
R.M.O. Marketing, Pacific Beach CA
Angelwings Tech, Spring Valley CA
SoCalVETTES.com, El Cajon CA
Summerset Professional Grills, Irvine CA
JBA Speed Shop, San Diego CA
LA Covers, Los Angeles CA
Mid America Motorworks, Effingham IL
DJ Mark Reynolds, Yuma AZ
AZ Canopy Chairs, Chandler AZ
California Highway Patrol
Kearny High JROTC Color Guard, San Diego CA
Car Show Depot, El Cajon CA
Raffle and Silent Auction Donors:
3D/Smart Car care Products, Chula Vista & Escondido
About Service Automotive Repair Center, Escondido
Hellanback Ranch Winery, Ramona
San Vicente Resort, Ramona
NAPA Auto Parts
Traction Tire, Ramona
Bates Nut Farm, Valley Center
The Brigantine Restaurant, Poway
Whisk 'n Ladle Restaurant, La Jolla
AutoZone, Ramona CA

A very big thank you goes to the NCoCC members that donated countless hours and untold dollars to this, our 40th show.
We are a social club with a love and appreciation for America's greatest sports car the Corvette. We host the largest all Corvette car shows in the west with over 300 Corvettes on display. Plans are already underway for our 41st Annual Plastic Fantastic All Corvette Car Show on May 20th 2018. The proceeds from our annual car show go to support our club charity, the San Diego USO (with locations at the San Diego International Airport and a Downtown Center at 303 A. Street, Suite 100, San Diego, Ca. 92101.

In addition to hosting Plastic Fantastic each year we enjoy a wide variety of other activities involving Corvettes, please take a look at the calendar on our website. These activities include attending car shows, going on cruises (the kind with cars not ships), having picnics and dinners, doing winery tours, having poker runs, and of course an annual Christmas Party to name a few. Our members also support a wide variety of local community activities and charities.

We meet once a month for a Business Meeting on the Second Tuesday of every month at 7:00pm at The Living Way Church located at 13609 Twin Peaks Road, Poway, CA 92064. We always welcome and encourage guests to attend our meetings and to participate in our club sponsored events. Many members arrive early to socialize.

For a map of our Business Meeting location please click HERE
Membership is open to anyone at least 18 years of age who owns a Corvette. Applicants must attend two business meetings and participate in one club event before becoming a member. Membership in NCoCC entitles you to:
A membership card for you and your significant other
Discounts on parts and service at participating dealers (Bob Stall Chevrolet and others)
A club T-shirt
A name tag and
An active website with the Club newsletter, event schedules, past event photo gallery and much more..

Initiation fee is $25. Dues are paid in advance: $75 for one year.

We hope this short introduction is helpful. If you have any questions, please contact us via e-mail to info@ncocc.com

Rosemary Dymek
President, North County Corvette Club